Search
Enter your search word or phrase below:
2019 Castañeda Lecture
The 2019 Gilberto Castañeda Lecture will be held on Thursday, May 2, 2019, at CTS. Our 2019 lecturer is Dr. Kent L. Brintnall, Associate Professor, Religious Studies, and Affiliate Faculty, Women's & Gender Studies, University of North Carolina-Charlotte. Dr. Brintnall will be talking about the Roman Catholic sex abuse scandals—situating them in terms of the history of Christianity and homosexuality but also the history of various concepts of "abuse." Registration opens soon; until then, take a look at last year's event, below…
---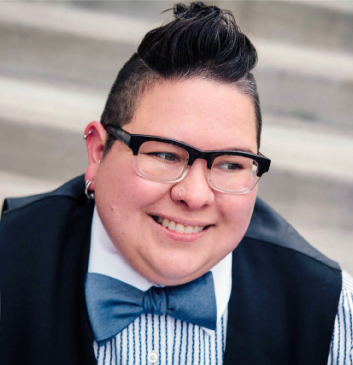 The 2018 Gilberto Castaneda Lecture was held on Thursday, May 3, 2018, here at CTS. Dr. Robyn Henderson-Espinoza presented Tales of Becoming: Whispers of Our Ancestors.
Dr. Robyn Henderson-Espinoza, an activist-scholar, works at the intersection of trans-Latinx identity, the academy, the church, and the public square. Chad Schwickerath, Manager of Alumni & Church Relations, talked with Dr. Robyn about their work. See part of the conversation below.
Dr. Robyn, you consider yourself an "activist-theologian." What does that look like?
Today's social-religious-political climate demands theology to be deeply connected to what's happening in the streets. For the past several years, I've been helping folks connect the dots between theory and action.
You are involved in so much. What projects are you working on now?
I am currently working on revisions of my Fortress Book, "Activist Theology." After rewrites and revisions, I'll turn to my next book on discernment and vocation, something that is near and dear to my heart!
The work you are doing must be exhausting. What does self-care look like for you?
Self-care is an essential part of my work. I'm trying to teach the academy, the church, and the Movement to take siestas! I take a siesta every day where I put my phone on do not disturb and engage in the ministry of the siesta.
Connect with Dr. Robyn online! Find their Twitter (@iRobyn) and Instagram (@iRobyn), or visit their website: www.iRobyn.com
View Dr. Robyn's lecture below: