Search
Enter your search word or phrase below:
60 Days for CTS: Giving Challenge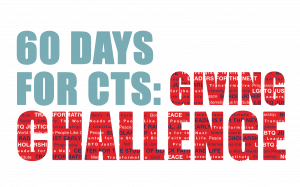 Too big for one day. We need 60 days to match the CTS giving spirit!
Giving comes naturally to the CTS community. That's why CTS is such a unique place full of extraordinary people. The world needs more people like CTS people–people like you–and that's why we invited you to join us for 60 Days for CTS: Giving Challenge. It's a time for our entire community to come together in support of our very special place of learning.
Kickoff Challenge May 2-15
We're kicking off with an unbelievably generous match from an anonymous donor. Make any gift of $25 or more to CTS and it will be matched with a $250 bonus gift! Even more crazy–make it a monthly recurring gift and that amount will ALSO be matched 1-1 each month up to $100 a month for an entire year!
Leaders for the Next Challenge: May 16-31
This challenge will focus on gifts honoring each 2019 graduating CTS student. When we reach enough donors to meet this goal, another spectacular challenge gift will be unlocked!
Finish Line Challenge: June 1-30
Through the end of the CTS fiscal year, we'll be sharing glimpses of our new strategic vision and challenging the entire CTS community to finish strong!