Search
Enter your search word or phrase below:
Accreditation & Policies
Accrediting Agencies
The Commission on Accrediting of the Association of Theological Schools
The Commission on Accrediting of the Association of Theological Schools in the United States and Canada approves the following programs: M.Div., M.A. in Religious Leadership, M.A. (Religious Studies), D.Min. S.T.M.,  Ph.D.  CTS is also approved for our Comprehensive Distance Education Program.
10 Summit Park Drive, Pittsburgh, PA 15275
Telephone: 412-788-6505  |  Fax: 412-788-6510
The Higher Learning Commission
CTS is also accredited by the Higher Learning Commission and the following degree programs are approved: M.Div., M.A. in Religious Leadership, M.A. (Religious Studies), D.Min., S.T.M.,  Ph.D.
The Higher Learning Commission
230 South LaSalle Street
Suite 7-500
Chicago, IL 60604
Telephone: 800.621.7440
Website: www.hlcommission.org
Educational Effectiveness and Student Outcome Data
In compliance with accreditation requirements, Chicago Theological Seminary publishes the data as indicators of the school's educational effectiveness and outcomes.  Data is taken from surveys of graduating students and alumni/ae as well as information provided by the Registrar's office. Read the full report here.
Authorization for Distance Education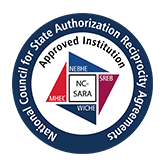 CTS participates in the National Council for State Authorization Reciprocity Agreements NC-SARA, which is a voluntary, regional approach to state oversight of postsecondary distance education.
Campus Safety
In compliance with the Clery Act, the 2017 CTS campus safety newsletter and campus crime statistics, years 2014-16, are now available.
At Chicago Theological Seminary, your safety is one of our top priorities. Here is information on how to make your on campus experience a safe and comfortable one:
Emergency Text Alerts: CTS uses a text alert system to notify students of campus closings and other emergencies. Students have the option to opt-in for this service. We highly recommend this service to receive alerts quickly. If you do not opt-in, you will receive emergency notifications via your CTS email. Click here to receive emergency texts.
Request A Safety Escort: The University of Chicago Police Department provides a Safety Escort Program for members of the University of Chicago community. If you are concerned about your safety as you walk within the UCPD's patrol area, call 773.702.8181 and request a safety escort. The first available patrol or security officer will be sent to escort you to your destination.
Safety Alerts: The University of Chicago Police also provide safety alerts including any issues that may have occurred in our surrounding area.  If you wish to receive these alerts you may sign up here.
Handicap Accessibility
CTS works hard to be accessible to everyone, including those with disabilities. Our parking lot has several accessible spaces available and our entrances are all at ground level. Every floor in CTS has accessible restrooms and our larger classrooms have hearing assistance devices available for those who need them. All rooms are wheelchair accessible and our emergency stairwells all have designated meeting places and phones to communicate with emergency personnel in the event of an emergency.
Students who would like to request accommodations and academic adjustments should contact the Registrar, who can guide them through the process of requesting academic accommodations.
Veteran Benefits
Chicago Theological Seminary works with veterans, members of the U.S. Armed Forces, and their dependents to assist them in taking full advantage of their educational benefits. However, Chicago Theological Seminary does not participate in the Yellow Ribbon program. For information about accessing your educational benefits as a student at Chicago Theological Seminary, contact the Registrar.

Complaint System
The seminary's complaint system can be found on our myCTS school intranet.
Privacy
The GDPR is the General Data Protection Regulation affecting citizens of the European Union only. At CTS, we believe strongly in protecting the data of our students, faculty, staff, alumni, and donors; and as such are working on becoming compliant with this regulation.