Accrediting Agencies
The Commission on Accrediting of the Association of Theological Schools
The Commission on Accrediting of the Association of Theological Schools in the United States and Canada approves the following programs: MDiv, MA (Religious Studies), STM, and PhD. CTS is also approved for our Comprehensive Distance Education Program. In January 2023, the ATS Board of Commissioners approved a five-year experimental Doctor of Philosophy degree, permitting the degree program to be completed in a reduced-residency format.
10 Summit Park Drive, Pittsburgh, PA 15275
Telephone: 412-788-6505  |  Fax: 412-788-6510
The Higher Learning Commission
CTS is also accredited by the Higher Learning Commission and the following degree programs are approved: MDiv, MA (Religious Studies), STM, DMin in Preaching (ACTS), and PhD.
The Higher Learning Commission
230 South LaSalle Street
Suite 7-500
Chicago, IL 60604
Telephone: 800.621.7440
Website: www.hlcommission.org
Bayan Articulation Agreement
MDiv and Certificate Concentrations in Islamic Chaplaincy and an MA in Islamic Studies are offered via an articulation agreement based on a MOU with Bayan.
Educational Effectiveness and Student Achievement Data
In compliance with accreditation requirements, Chicago Theological Seminary publishes the data as indicators of the school's educational effectiveness and student achievement outcomes. Data is taken from surveys of graduating students and alumni/ae as well as information provided by the Registrar's office. Read the full report here.
Authorization for Distance Education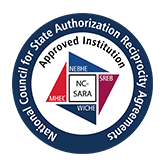 CTS participates in the National Council for State Authorization Reciprocity Agreements NC-SARA, which is a voluntary, regional approach to state oversight of postsecondary distance education.