2023 Rabbi Herman E. Schaalman Interreligious Leadership Award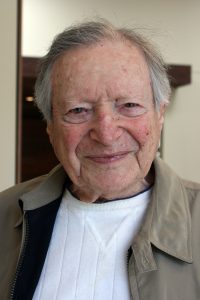 Rabbi Herman E. Schaalman dedicated his life to building interreligious relationships in order to bring about greater justice and mercy. In honor of his life and memory, students are invited to submit a paper detailing a community issue or concern they have addressed with an interreligious or interfaith approach. This could be an initiative that arose from coursework at CTS, it could be an initiative from your faith community, or it could be a part of a local municipality or community. Students do not need to have led the initiative but must have had sufficient participation to be able to deeply reflect on the experience.
One winner will be selected and will receive a $1,000 honorarium. The winner will be recognized at the LaCocque Lecture in March 2023.
Maximum of 1 submission per student.
Your submission should detail the issue your initiative addressed, your role in the initiative, the ways in which an interreligious approached impacted the project, and a thoughtful reflection on your learnings as a result of your participation in this project.
Entries should be 750 – 1000 words.
Eligibility: Students in good standing, currently enrolled in a Masters' or Doctoral level degree program at Chicago Theological Seminary (including Bayan students) may participate.
Due to Dean's Office via email to [email protected] no later than Friday, November 18, 2022 at 5:00 pm.