Chicago Theological Seminary Announces Dr. Brad R. Braxton as 14th President
New president, a religious studies scholar and public theologian, will helm historically progressive seminary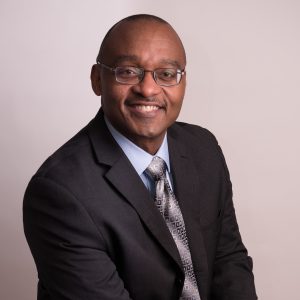 CHICAGO—Chicago Theological Seminary (CTS) is thrilled to announce the appointment of Dr. Brad R. Braxton as the 14th President of the historically progressive seminary.
"The CTS community is incredibly pleased. Dr. Braxton brings an extremely impressive portfolio of experience to the Seminary as its next President, and he comes to us with one foot firmly planted in the academy; the other in the not-for-profit/philanthropic and public square," said Brian Clarke, chair of the Seminary's board of trustees. "His 30-plus years of overall experience have equipped him effectively to see and deal effectively with the challenging and changing social, cultural, and religious issues facing theological education today. The search committee and our board are convinced that his broad-ranging experience—inside and outside of seminary education—and strategic skill set will lead to new opportunities for CTS on all fronts. We are excited to expand the seminary's capabilities and build on the foundational work started under Dr. Stephen Ray."
Dr. Braxton, whose position includes a faculty appointment in Public Theology, joins CTS from St. Luke's School, a coeducational independent school in New York City, where he served as Chief Diversity, Equity, and Inclusion Officer. He serves as the Senior Program Advisor for Creative Encounters: Living Religions in the United States, the 2023 Smithsonian Folklife Festival on religious diversity. An ordained Baptist minister, Dr. Braxton is also the Founding Senior Pastor of The Open Church, an inclusive congregation in Baltimore, Maryland committed to social activism, LGBTQ+ equality, and interfaith collaboration.
"I am honored to join the Chicago Theological Seminary family as we embrace the challenges and opportunities of our increasingly pluralistic society," Dr. Braxton remarked. "In a world reeling from escalating public protests, divisive political rhetoric, and an epidemic of violence, CTS is especially suited to equip courageous leaders and wise community-builders with technical competence and, also, 'soul competence'—the ability to inspire the human spirit to foster restorative justice and inclusive love. In collaboration with every member of the CTS family, I am eager to pursue a bold and joyful agenda that considers constructive encounters with diverse others as the doorway to a renewed humanity and a refined understanding of theological education's positive role in public life."
Prior to his work at St. Luke's School, Dr. Braxton held professorships at Southern Methodist University, Vanderbilt University, and Wake Forest University, as well as lectureships at Georgetown University, Harvard Divinity School, and McCormick Theological Seminary. His leadership has extended beyond the academy to museums, philanthropic organizations, and faith communities. He formerly served as the Director of the Center for the Study of African American Religious Life at the Smithsonian National Museum of African American History and Culture in Washington, DC, the Program Officer for Religion in the Public Sphere at the Ford Foundation in New York City, the Senior Minister of the Riverside Church in New York City, and the Senior Pastor of Douglas Memorial Community Church in Baltimore, Maryland.
"Dr. Braxton shares our commitments, doing groundbreaking work on racial justice, LGBTQ+ inclusion, gender equity, and interreligious engagement," said Rabbi Dr. Rachel Mikva, Interim Academic Dean. "Like 'Lady Wisdom' in the Book of Proverbs, he calls to us all from the intersections to do noble things together in the world."
Dr. Braxton holds a Ph.D. in New Testament studies from Emory University, where he was a George W. Woodruff Fellow; a master's degree in theology from the University of Oxford, where he was a Rhodes Scholar; and a bachelor's degree in religious studies from the University of Virginia, where he was a Jefferson Scholar and a member of Phi Beta Kappa.
Dr. Braxton is the author of several scholarly books exploring the intersection of religion and social justice. His books No Longer Slaves: Galatians and African American Experience and Preaching Paul are frequently used in seminary courses. His two latest books are forthcoming in 2023. In A Master Class on Being Human: A Black Christian and A Black Secular Humanist on Religion, Race, and Justice, he and noted Secular Humanist Anthony Pinn explore the differences and similarities between Black religious and Black secular communities in the ongoing struggle for social justice. In 2023, he will also publish Open: Unorthodox Thoughts on God and Community, a collection of his essays and sermons examining religion from a progressive perspective.
The search for a seminary president was launched last August following the decision of President Ray to retire after three years of service. The board named Dr. Marsha Foster Boyd, President Emerita of Ecumenical Theological Seminary in Detroit, Michigan, as Interim President.
CTS's executive committee appointed a committee representative of the wider CTS community to conduct the search. Board Chair Clarke, Managing Partner of Kensington International, led the effort in partnership with the executive search firm Isaacson, Miller.
About Chicago Theological Seminary:
For over 165 years, CTS, located in Chicago's Woodlawn neighborhood, has pushed at the boundaries of theological education with an ongoing legacy of progressive firsts and historic social justice initiatives. With more than 300 students, the seminary offers online and on-campus masters and doctoral degrees in theology, ministerial leadership, and social services, as well as certificate programs in chaplaincy, the study of Black faith and life, LGBTQ+ studies, interreligious engagement, and Muslim studies. CTS is considered one of the most forward-thinking graduate schools of theology in the United States. Justice Lives Here.
Contact:
Brendan Diamond
Director of Communications, Chicago Theological Seminary
P: 312-619-1733 | E: [email protected]