Chicago Theological Seminary welcomes renowned scholar in LatinX Studies and Religion, José Francisco Morales Torres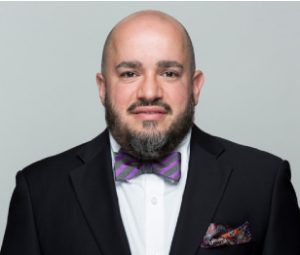 Chicago Theological Seminary (CTS) is pleased to announce that Professor José Francisco Morales Torres will join the faculty as Assistant Professor of Latinx Studies and Religion effective July 1, 2020. Morales is a historical and comparative theologian who places historical voices into conversation with historically marginalized voices, within and beyond the Christian tradition, offering radical re-articulations of the affirmations of faith for today's realities.
His areas of interest include: comparative approaches to historical theology; liberation theologies; theological anthropology; the development of Christian doctrines in global perspectives; history of Latin American philosophy; and Medieval philosophizing and theologizing across Abrahamic faiths.
Morales holds degrees from Claremont School of Theology (Ph.D., Comparative Theology and Philosophy), McCormick Theological Seminary in Chicago (M.Div.), and Judson University in Elgin, IL (B.A.). His doctoral dissertation explores the experience of wonder as a starting point for constructing a new theological anthropology.
Before coming to CTS, Professor Morales held a joint appointment at Claremont School of Theology, as Assistant Professor of Historical and Comparative Theology, and at Disciples Seminary Foundation (Claremont, CA), as Director of Pastoral Formation. Vice President of Academic Affairs and Academic Dean Stephanie Buckhanon Crowder notes: "The addition of Professor Morales will help CTS recapture its engagement with Latinx constituencies while providing courses reflecting these communities, their histories and theologies."
An ordained minister with the Christian Church (Disciples of Christ), Morales served as the Executive Regional Minister of the Central Rocky Mountain Region of the Christian Church (Disciples of Christ). (2010-14). Prior to this he was the Associate Pastor at Iglesia del Pueblo-Hope Center (now named Hope Christian Church), a multicultural Disciples of Christ congregation in Hammond, Indiana. (2004-2009).
Morales has published various articles and book reviews on theology and current events. During his congregational ministry, he served as the clergy caucus chair for the Interfaith Federation, a faith-based community organizing network working on issues of justice in Gary, East Chicago, and Hammond, IN. His ministry experience is broad, including wider denominational leadership, congregational ministry, advocacy, community organizing, and education.