Tina Shelton Joins CTS as its New Registrar
Chicago Theological Seminary (CTS) is pleased to announce that Tina Shelton will be joining the CTS community as its new Registrar effective January 6, 2020. Ms. Shelton was the Associate Registrar and PhD Coordinator at Garrett-Evangelical Theological Seminary and brings over five years of experience in theological education.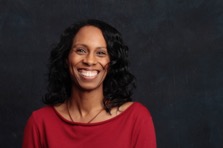 Ms. Shelton graduated from Garrett-Evangelical Theological Seminary with a Master of Divinity in 2015 and a Master in Spiritual Formation & Evangelism in 2017. She is completing coursework towards a Doctor of Ministry degree in Spiritual Direction and currently on the Elders ordination track of the United Methodist Church in the Northern Illinois Conference. She has two young adult children.
"The addition of Ms. Shelton to the CTS community will provide more depth to academic affairs. She is quite resourceful and has a peaceful demeanor and pastoral presence that are crucial to such student-centered work," notes Vice President of Academic Affairs and Academic Dean, Stephanie Buckhanon Crowder. Ms. Shelton stated, "Thank you so much for extending me the opportunity to serve at CTS. I am really excited to work with everyone."