Search
Enter your search word or phrase below:
2019 Castañeda Lecture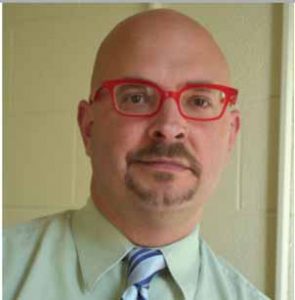 The 2019 Gilberto Castañeda Lecture will be held on Thursday, May 2, 2019, at CTS. Our 2019 lecturer is Dr. Kent L. Brintnall (pictured), Associate Professor, Religious Studies, and Affiliate Faculty, Women's & Gender Studies, University of North Carolina-Charlotte. His lecture title will be Can We Queer Sex Abuse? Dr. Brintnall will be talking about the Roman Catholic sex abuse scandals—situating them in terms of the history of Christianity and homosexuality but also the history of various concepts of "abuse." Registration is below.
About Dr. Kent L. Brintnall
Kent L. Brintnall (B.A., Fort Hays State University; J.D., Northeastern University School of Law; M.A., Pacific School of Religion; Ph.D., Emory University) joined the UNC Charlotte faculty in fall 2008 after serving as the inaugural post-doctoral fellow in religion and sexuality as well as a lecturer in film studies at Emory University. Dr. Brintnall is an affiliate faculty member in the Women's and Gender Studies and Film Studies programs. His courses explore the texts and questions that comprise feminist and queer theory, psychoanalysis, and the work of Georges Bataille. He has authored one monograph, Ecce Homo: The Male-Body-in-Pain as Redemptive Figure (Chicago, 2011), and edited several volumes, including Sexual Disorientations: Queer Temporalities, Affects, Theologies (Fordham, 2017); Embodied Religion (MacMillan, 2016), and Negative Ecstasies: Georges Bataille and the Study of Religion (Fordham, 2015). He is currently working on a monograph, tentatively entitled Constraining Violence: The Tragic Politics of Queer Theory, and an edited collection on the work of Lee Edelman. He also serves as the North American editor for Theology and Sexuality. Much of his free time is dedicated to keeping his two dogs–Dino and Bertha–happy.